Have you been referred by your GP?
We know that a lot of people are introduced to us by their doctor or healthcare worker.
A lot of people come to us after a recommendation from their doctor or mental health professional. You might have been told you need "Cruse counselling" or to "talk to Cruse." But what does that mean? And what are the different ways to get grief support from us?
Who are we?
Cruse Bereavement Support is the leading grief charity in England, Wales and Northern Ireland. Our volunteers provide expert support for people who are grieving. We also offer a range of online services including self-help resources and online chat.
How we can help
Grief is personal and so is grief support. You can speak to us on the phone, online or get in touch with us about ongoing grief support sessions.
Our Helpline
You can call our Helpline to talk about how you're feeling right now. Our volunteers are there to listen, to let you talk and offload, and help you find ways to adapt and cope with your situation.
Find out more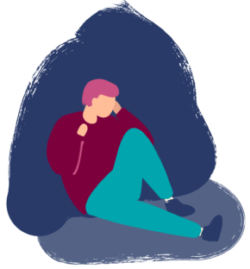 CruseChat
Writing down your feelings is a really great way of understanding them better. Our online chat service is run by grief counsellors. We provide a safe space for you to offload and talk about how you're coping.
Learn more