Our work and impact
Read about the difference we make every year.

31,487 helpline calls answered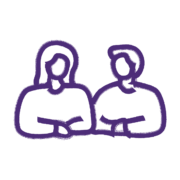 22,192 people received individual support
1.5 million visitors to our website
Over 100,000 received direct support from a Cruse volunteer or staff member
Our impact
In 2022 over 100,000 people received support directly from a Cruse volunteer or staff member and many thousands more visited our sites or connected with us on social media. This year a new ourcomes report from Cruse and the University of Birmingham gave us further confirmation that what we do is benefiting bereaved people and improving measures of mental distress.
Facts and figures
Some of our stories
Outcomes report
Our Royal Patron Queen Elizabeth II
Her Majesty the Queen Elizabeth II was our patron for 38 years. During that time we benefited so much from her interest in our work and support for our cause. So many people across the world were deeply affected by her death, and we were glad we were able to play our part to help those who found it a difficult time. In all we we were able to reach 33.2 million people through our press work with over 250 pieces of coverage.
Read our tribute
Read all our coverage
"We visited London on Sunday and while in Hyde Park I noticed some Cruse representatives very subtly walking around the flowers there if anyone needed them. I used Cruse when my dad died and found them so sensitive and caring. I just wanted to say thank you for your presence in London at this difficult time."